It is evident that you should never follow black hat SEO techniques to avoid getting penalized by Google. However, even the SEO experts and pros today are unaware of some common link building mistakes in 2022 that actually harm their search engine optimization efforts.

Mistakes in building backlinks can not only lower your rankings significantly but also may get you banned from Google indexing altogether. This is why we have curated a list of common backlink mistakes to avoid, with insights and tips from veterans in the field of digital marketing and SEO services.

Why does Google hate link building mistakes?
The aim of Google is to serve the best content and search results to the users and enable a seamless user experience. That is the reason it keeps on updating its algorithms and recommending things like mobile SEO.

If it doesn't offer the best UX, it will lose its popularity. So, your focus with the website must be to serve the users rather than search engines. If users like your content, Google will love it.

If you don't keep yourself updated with the latest Webmaster Guidelines, you will keep on making common link building mistakes. If you are not following the rules of Google SEO, you will lose the game.

The primary reason Google hates certain backlink strategies is that SEO guys are manipulating things for their own benefits. You can't over smart Google. If you do so, the next Google algorithm update will punish your website rankings.

MUST-READ: Ultimate Mobile SEO Guide: Importance, Audit, Strategy, Best Practices

Common Link Building Mistakes to Avoid in SEO
Let's discuss the top backlink mistakes in off-page SEO that are done by a majority of SEO people today. Whether you are using white hat or black hat link building techniques, there will be some impact on your rankings- for better or worse.

1. Focusing only on high DA backlinks
While this is not the case with all the webmasters because building backlinks from high domain authority (DA) websites is a difficult task to do.

But if you are creating backlinks for SEO only from high DA blogs and websites, then you need to revamp your link building strategies.

Think of your website as an organic source where you have to plant seeds in the form of backlinks. Of course, you will plant lots of seeds for more trees and eventually more benefits. But you have to remember that not all the seeds will have a long life.

The same goes for the backlinks. Not all the links will last for a lifetime. Some of them will become highly authoritative, and some might shrink. So, what this means for you is that you should not solely rely on creating high DA backlinks. The low DA backlinks you ignore today might grow tomorrow and bring you great benefits.

2. Getting obsessed with competitors backlinks
While this is a great idea to spy on and find the websites from which your competitors have created or earned backlinks, but don't become too obsessed with it.

It is among the top SEO backlink myths that if you build backlinks the same as your competitor, you will be able to outrank them. Remember, search engine optimization is not only about backlink creation.

What you should do is to find your competitor's backlinks, and analyze what's working for them and what is their SEO link building strategy. This will also give you an idea about the SEO trends in your industry. Based on this analysis, build your own unique white-label backlink building plan and execute it.
3. Press Release Link Building
Creating backlinks from press releases is a widely used link building technique. The reason behind it is that you can easily get numerous backlinks to your website by writing one piece of content that gets published across multiple PR sites. In some cases, there are hundreds of backlinks created with this link building technique.

However, getting backlinks from press releases has become an outdated method now. It is because SEO pros started using it as a tactic to generate backlinks and abuse Google's intent of serving the best content to users.

As a result, Google now considers press release link building as a link scheme. Generally, webmasters optimize the anchor text in the PR content with their desired keywords. This used to help in boosting the ranking for those keywords, but it's no longer considered a part of organic SEO. Your ranking may suffer because of such backlinks.

How to avoid this?

Instead of using the links on keywords, you should go for branded URLs or naked URLs. A branded URL is the link that is related to your brand name. So, you should hyperlink your business name instead of keywords. Naked URLs are those that are not used on any text. They are used as it is.

MUST-READ: Top 10 Latest Digital Marketing Trends in for SMBs

4. Blog Comments
Are blog comments good for your SEO?

Yes. And a big no.

Google used to count the links in the comments section of the blogs as backlinks. However, this is currently the most-abused technique in SEO services. People are generating blog comments using automated bots. These are called spam comments.

In fact, if you have a WordPress website, you might have noticed hundreds of comments done on your blog posts for the sole purpose of backlinks. Akismet, a popular WordPress plugin that helps in preventing spammy comments, reported that it filters more than 7.5 million spam comments every hour.

According to Shelly Fagin, an SEO consultant at Search Engine Journal, the blog commenting SEO tactic used to work. However, it doesn't work and hasn't worked for a long time now.

So, if you are still putting in your efforts into blog commenting, then it's high time for you to avoid this link building mistake.

Are blog comments completely useless?

No. You can blog commenting strategically to build relationships with other bloggers, gain exposure, and eventually drive some traffic to your website. If your sole purpose is to increase the number of backlinks, then forget this.

5. Buying backlinks
Should you buy backlinks for SEO?

Every SEO person will say no to it. However, this is a tactic that many of them use but never admit. There are many agencies today that offer backlinks service in bulk at a cost-effective price.

For example, this agency is selling 10,000+ backlinks for just $75. Could you believe it? You just have to pay and they will generate thousands of mixed backlinks from high DA, .gov, and .edu websites.

Now, see what Google has to say about buying or selling backlinks: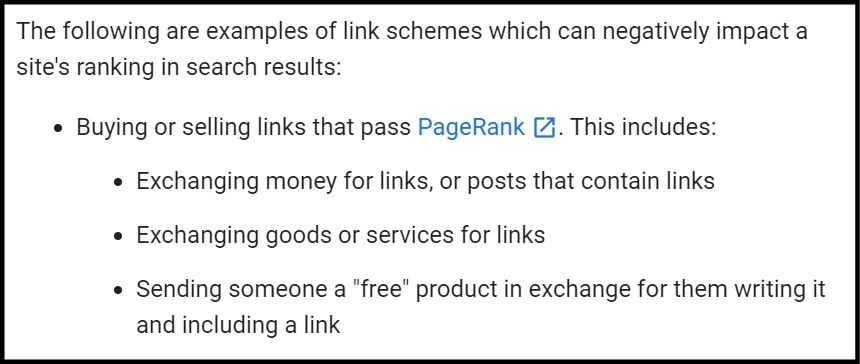 The search engine giant is very clear about things. If you buy backlinks in exchange for money, links, or services, it will harm your rankings on the search engine results page (SERP). This is by far the biggest link building mistakes to avoid in 2022. 

If you want organic rankings for your website with organic link building techniques, then you must rely on SEO services offered by a reliable digital marketing company.

In case you want to learn how to build backlinks and other SEO techniques, you can enrol yourself in an SEO certification course.
6. Creating too many backlinks in short period
Undoubtedly, earning or creating quality backlinks boosts your search engine rankings. But one thing you need to take care of is to avoid building too many backlinks to your website within a short period of time. There is a term in SEO called link velocity, which represents the rate of link building for your site.

If your link velocity is high, you are at the risk of getting penalized by Google in terms of search engine rankings. While Google says that backlink creation should be natural, SEO guys know that they have to put in efforts to build backlinks.

However, don't make things too obvious for Google. For example, your website has only 20 backlinks for the last 2 years, and this number becomes 250 within the next month. Wouldn't that sound too fishy?

This is yet another big SEO mistake that you must avoid while building white hat backlinks. You can also hire SEO analyst or expert for your website who can create a proper backlink and SEO strategy. This will help you avoid link building mistakes and rank on the first page of Google organically.

7. Overloading the anchor text
Anchor text is the text or words that are hyperlinked to another webpage.

For example, the 'digital marketing course' in the below example is an anchor text.

"Digital marketing course helps you build several skills related to SEO, social media, online advertising, and more."

While creating backlinks, the strategy of most of the SEO executives is to get a backlink on the primary keyword of the website or a web page. This improves the website ranking for that keyword.

While this strategy works, but if you overload the anchor text or keyword with the same link, Google will count it spamming.

Since the release of the Penguin update in 2016, Google also checks whether a website is over-optimized using backlinks and anchor texts. Google doesn't penalize your entire website though, but the ranking of the page you are getting the backlink to will be affected.

The role of an anchor text is to tell users and search engines about the intent of the hyperlink and what to expect from the destination page. However, if you are creating numerous backlinks to your website with the same keywords, this will alarm the search engines that you are trying to manipulate things for higher rankings.

Hence, you have to ensure that you avoid this SEO mistake. While backlink building, try to use the link on a mix of long-tail keywords, phrase match keywords, etc.

8. Backlinks from websites with bad reputation
Google doesn't like certain websites, like spam sites, casino and gambling sites, porn sites, illegal and duplicate content blogs, etc.

If you are getting backlinks from any of such websites, then you need to get rid of them. Google will lower your rankings. Your aim should be to earn backlinks from reputed and authoritative websites.

On the other hand, if you run a blog where you provide backlinks to bad websites, it will also impact your rankings for worse.

9. Backlinks from irrelevant content
At WsCube Tech, a digital marketing and web development company, if we build backlinks from websites dedicated to travel, games, finance, and casino, Google wouldn't miss noticing this. Why will a travel or game website link to a digital marketing agency?

A couple of backlinks created naturally might not get Google's attention. However, if you are just increasing the number of backlinks without seeing whether it is coming from relevant niches or not, then your chances of getting penalized will just increase.

10. Low-quality guest posts
This is one of the biggest and top link building mistakes to avoid if you want to leverage white hat SEO. If you are someone who thinks that it is a matter of generating backlinks, regardless of the quality of content, then it is a myth.

There are many webmasters and SEO people who write an article for a guest post, and then create multiple duplicate copies of the same. Their aim is to submit the content on various websites or blogs and build backlinks. \

Another such practise is paying peanuts to cheap content writers for new posts. Of course, you will get some new content with corners cut from duplicate content. But this is nothing more than a fly removed from stale food.

Google is very smart. It has the potential to determine quality content that can offer value to readers. If a piece of content is not valuable to users, Google doesn't like it. Creating backlinks with low-quality articles and duplicate content should be avoided.

If a guest post ranks higher, your backlink will also be more valuable. You can't achieve that with poor content.

11. Generating backlinks automatically
There are numerous free and paid backlink generators or automated link building tools available on the internet that ask you to enter your website URL and it will generate multiple backlinks for you in a matter of minutes.

This is really too good to be true!

What these tools do is throw your website URL at hundreds of others sites using bots. With this link building technique, you are just inviting spam to your website and increasing your spam score. This declines your organic rankings and harms your SEO efforts.

READ NEXT: Machine Learning for Business Growth: Role & Applications of ML
Wrapping up:

So, this was your guide to backlink mistakes in off-page SEO. These mistakes are so common that almost every webmaster is making some and killing their search engine optimization strategy. You must rely on creating genuine and natural backlinks, instead of buying backlinks, using free backlink builders, exchanging links, and over-optimizing anchor text.

Also, always focus on quality over quantity. Google is really smart and will catch these mistakes.

Which of these top link building mistakes are you making currently and looking to avoid now? Let us know using the comments below.